2022
September 23 to December 03
Reza Derakshani
RECENT WORKS (4+2 seasons & coffee tales)
Opening September 22nd from 6 pm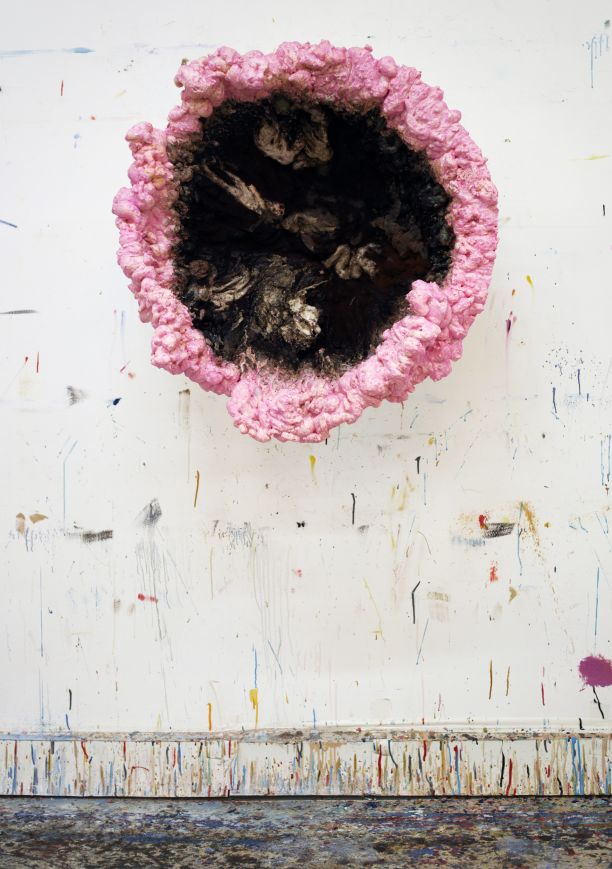 I discovered Reza Derakshani's work some years ago in a gallery in Dubaï and was immediately attracted and seduced by his way of bringing Persian art in a contemporary version.
His art conveys his meditative solitude that is the result of the pure freedom of his self-expression.
Since he was a child, Reza knew that he wanted to be an artist. Brought up in a nomadic family in the Iranian mountains, he explores through his art the natural world as well as emotional states and themes of exile and alienation. His large-scale paintings are blending abstract and figurative elements from both Western and Eastern cultures. They are the result of a long search process of finding his own language of expression.
Considered as an abstract expressionist artist, his work, composed of layered textures, is reminiscent of artists such, for instance, as Gerhard Richter or Per Kirkeby.
After Iran, Dubaï, the States, Italy and many more places around the world, he is now established in Istanbul where he works and lives. I was happy to visit him there at the end of last year in order to discuss his project and views for his exhibition at Espace Muraille.
Thus, the inspiration finally results mainly in four seasons paintings, but also in sculptures about coffee tales which, like the settled tea-leaves at the bottom of a teacup, form a serie of works flavoured by Reza's cultural heritage (as underlined by Art Adviser Roxane Zand - former Deputy Chairman for the Middle East at Sotheby's – in a forword, freely quoted, to a book of selected works by Reza Derakshani published by Patrick Cramer in 2010).
Derakshani is not only a painter, but also a musician and a poet. But it is really within contemporary painting that he has experienced true liberation and fulfillment as an artist.
The influence of music and poetry can however be seen in the rhythmic harmonies that play out across his canvases, qualities that have prompted comparisons with the paintings of Wassily Kandinsky and Paul Klee.
His passion for beauty and deepest perception of the world has found expression in many different forms. But above all, with painting, music and poetry, he hits the heart of Persian artistic culture.
Thierry Vernet, who's works we exhibited some years ago Espace Muraille, in his correspondence with his parents during his long topolino trip with Nicolas Bouvier from Yugoslavia to Afghanistan, wrote, when he crossed the boarder between Turkey and Iran, that he was leaving a country of warriors for one of poets.
Through all Reza's ways of expression and practices, this poetic approach and dimension plays a fundamental role and places his art at the confluence of civilizations.
Featured in many public prestigious art collections, it is an honor for Espace Muraille to exhibit Reza Derakshani's recent works and we thank him for the spiritual life he is bringing within our walls like the fig tree, a source and symbol of survival, which inspired him a poem:
"…The shadow of a fig tree quiets my soul."
Caroline Freymond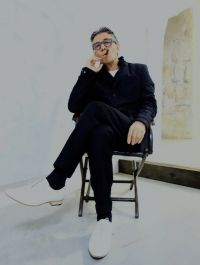 Contemporary artist, painter/ musician Reza Derakshani was born in a small town in the northeast of Iran. Growing up in a great black tent on top of mountains among fields of blue and yellow wild flowers which led to a deep connection with the nature , Reza moved from the study of constellations of moonlight shining through tiny holes in the tent to the study of mathematics in highschool and visual arts in Tehran and the U.S.
The long and circuitous road of Derakshani's artistic and geographic migration eventually found him inNew York City, where he made a home and worked for 16 years. He later lived and worked in Italy, Tehran, Germany, Dubai, Austin Texas, St Petersburg Russia and currently in Istanbul.
Derakshani's passion for beauty and his nuanced perception of the light and dark of the world has found expression in many different forms, from music, graphic design, illustration and calligraphy to studies in traditional and western classical visual arts.
Yet it is within contemporary painting that he has experienced true liberation and fulfillment as an artist. The challenging techniques, innovation and mental stimulation inherent to contemporary art have led him to create a meditative solitude that results in pure freedom of self-expression.
Reza's work, known for its diversity and originality, has gained recognition for its fearless exploration of forms and style, and the skill and vision necessary to merge an unbending tradition with a wild contemporary spirit.
Derakshani's work has been widely exhibited and collected internationally, including Metropolitan museum, British museum, State Russian museum, Museum Gunzenhauser Germany, SPM Dubai, Passargad museum and Tehran contemporary museum of art and numerous private and corporate collections worldwide.