2018
January 24 to April 28
Olafur Eliasson
Objets définis par l'activité
Public opening: Tuesday 23rd of January 2018 6PM
Exhibition: 24rd of January - 28th of April 2018
An exhibition initiated by Laurence Dreyfus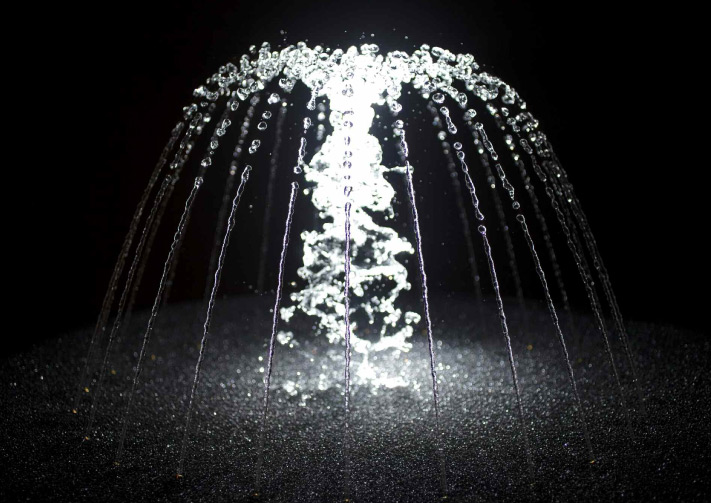 Olafur Eliasson: Objets définis par l'activité, at Espace Muraille, brings together a selection of 16 artworks which attest to Olafur Eliasson's research on time, perception, space, movement, and the relativity of reality.
Eliasson is an artist who understands our era not only from a scientific and aesthetic point of view but also with a sense of communal ecological urgency, as exemplified by his projects Little Sun, Ice Watch, and Green light – An artistic workshop. The works in this exhibition are good examples of what the artist refers to as 'experimental setups'– they trigger viewers' perceptions, encourage them to move about and examine the works from various perspectives. This reflects Eliasson's idea that viewers play a key role in coproducing the artworks.
In the first room, a series of small sculptures explore Eliasson's geometric vocabulary as well as his experiments with reflection, refraction, and painting with light. Among these are a work comprising panes of coloured, hand-blown glass that depict two overlapping sets of ellipses; a new painting from Eliasson's colour experiment series that presents viewers with a confrontation between deep black and the colours of the rainbow; and a work that plays – via the magnifying capacity of a shallow concave mirror – with viewers' sense of scale.
The next room introduces watercolours that explore the effects of overlapping washes of colour or were created by allowing a fragment of glacial ice to melt atop a wash of watercolour pigment. Time is momentarily suspended when faced with the grace of these works, which encourage viewers to question humanity's impact on nature.
On the lower floor, visitors are greeted by Black glass sun, made from a dark circle of convex glass ringed by a bright halo of monofrequency light, and The gaze of Versailles, two golden eyes that gaze back at the viewer. Passing through a curtain into a darkened space, viewers encounter the final works in the exhibition: Object defined by activity (now/soon/then). These three water-sculptures are revealed by the rhythmic flash of stroboscopic lights. Seemingly suspended by the flashes of light, the aquatic arrangements appear to freeze in time, although the sound of splashing droplets in the dark allows viewers to discern the ongoing process.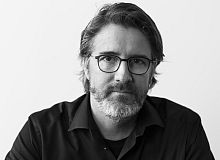 Olafur Eliasson's art is driven by his interests in perception, movement, embodied experience, and feelings of self. Eliasson strives to make the concerns of art relevant to society at large. Art, for him, is a crucial means for turning thinking into doing in the world. Eliasson's diverse works – in sculpture, painting, photography, film, and installations – have been exhibited widely throughout the world. Not limited to the confines of the museum and gallery, his practice engages the broader public sphere through architectural projects and interventions in civic space.
Eliasson was born in 1967. He grew up in Iceland and Denmark and studied, from 1989 to 1995, at the Royal Danish Academy of Fine Arts. In 1995, he moved to Berlin and founded Studio Olafur Eliasson, which today encompasses some ninety craftsmen, specialised technicians, architects, archivists, administrators, programmers, art historians, and cooks.

Since the mid-1990s, Eliasson has realised numerous major exhibitions and projects around the world. In 2003, Eliasson represented Denmark at the 50th Venice Biennale, with The blind pavilion, and, later that year, he installed The weather project in Tate Modern's Turbine Hall, London. Take your time: Olafur Eliasson, a survey exhibition organised by SFMOMA in 2007, travelled until 2010 to various venues, including the Museum of Modern Art, New York. Innen Stadt Aussen (Inner City Out), at Martin-Gropius-Bau in 2010, involved interventions across Berlin as well as in the museum. Similarly, in 2011, Seu corpo da obra (Your body of work) engaged with three institutions around São Paulo – SESC Pompeia, SESC Belenzinho, and Pinacoteca do Estado de São Paulo – and spread out into the city itself. In 2014, Riverbed filled an entire wing of Denmark's Louisiana Museum of Modern Art with stones and water, emulating a river in a rocky landscape; later that year, Contact formed the inaugural exhibition at Fondation Louis Vuitton, Paris. Verklighetsmaskiner (Reality machines), at the Moderna Museet in Stockholm in 2015, became the museum's most visited show by a living artist. In 2016 Eliasson created a series of interventions for the palace and gardens of Versailles, including an enormous artificial waterfall that cascaded into the Grand Canal.

Eliasson's projects in public space include Green river, carried out in various cities between 1998 and 2001, and the Serpentine Gallery Pavilion 2007, designed together with Kjetil Thorsen. The New York City Waterfalls, commissioned by Public Art Fund, were installed on Manhattan and Brooklyn shorelines during summer 2008. Ice Watch brought melting icebergs from Greenland to Copenhagen in 2014 and to Paris on the occasion of the COP21 Climate Conference in 2015. Your rainbow panorama, a 150-metre circular, coloured-glass walkway situated on top of ARoS Museum in Aarhus, Denmark, opened in 2011, and Harpa Reykjavik Concert Hall and Conference Centre, for which Eliasson created the facades in collaboration with Henning Larsen Architects was completed that same year.

As a professor at the Berlin University of the Arts, Eliasson led the Institut für Raumexperimente (Institute for Spatial Experiments; 2009–14), a five-year experimental programme in arts education located in the same building as his studio (www.raumexperimente.net).

In 2012, Eliasson and engineer Frederik Ottesen founded Little Sun. The social business and global project provides clean, affordable light to communities without access to electricity; encourages sustainable development through sales of the Little Sun solar-powered lamp, designed by Eliasson and Ottesen; and raises global awareness of the need for equal access to energy and light (www.littlesun.com).

Eliasson and architect Sebastian Behmann founded Studio Other Spaces, an international office for art and architecture, in Berlin in 2014. As an architectural counterpart to Studio Olafur Eliasson, Studio Other Spaces focuses on interdisciplinary and experimental building projects and works in public space (www.studiootherspaces.net).
Eliasson lives and works in Copenhagen and Berlin.
Gallery Olafur Eliasson
Olafur Eliasson Opening