2014
October 03 to November 29
Pierre Skira
Pierre Skira - Yohei Nishimura
Curated by Nicolas Christol
Pierre Skira
Born in 1938, he lives and works in Paris.
A pastellist, he will present his most recent works.
Pierre Skira exhibits at De Bayser in Paris and Arturo Ramon in Barcelona, after Jan Krugier in Geneva and Caroline Freymond in Paris. He has taken part in numerous exhibitions with, in particular, Jean le Gac, Titus Carmel and François Barbâtre. He has published works in collaboration with Jean-François Lyotard, Gérard Macé and Pascal Quignard. His collaboration with the latter was the subject of an exhibition at the Soissons Museum.
His works are in public and private collections in France and around the world.
Yohei Nishimura (西村 陽平)
Born in 1947, he lives and works in Chiba and Tokyo.
He will present an installation of his "fired books" along with his very latest work, also on the theme of books, form and memory.
Cooked at 1200 degrees, miraculously "fossilized" by the magic of the electric kiln acting like a time accelerator, Yohei Nishimura's fired books are moving far beyond their fragile beauty. Whilst the link with the autodafé appears obvious, what really takes places is a conservation or even a revelation, not a destruction. Admittedly the ink gradually disappears during the ten long hours of firing, but it is a work of collective memory to which the artist invites us with, as the starting point, the first page intact suspended above each work.
Founded in 1948 by Yagi Kazuo, the Sōdeisha movement contributed to the development of the ceramic-object concept (obuje-yaki) in opposition to utility pottery (yakimono). Through this ambiguous term, the avant-garde sought to break with sculpture in order to maintain this tension in the field of ceramic. But the irony is that it has thus contributed to the very western dichotomy between ceramic and art (modern, then contemporary). Whilst Yagi Kazuo launched the movement with his kokuto black ceramics fired at a low temperature, Ryoji Koie was even more radical, sometimes using industrial wood reduced into powder to mould his face, sometimes reducing the concept of ceramic to its simplest expression: "to burn things", the literal translation of the word yakimono, going as far as simply making a mark with a cutting torch on the ground.
Very often categorised as a ceramist, Yohei Nishimura began by studying sculpture and this is undoubtedly a key element in his freedom. When he creates a kokuto piece in ceramic, in this particular case a recipient, it is an object in which to keep magazines that have been fired in the kiln. When he "burns things", for instance books or fruit, it is to better conserve them. Transcending the constraints confronting the Sōdeisha members, his work often takes the form of an installation, sometimes involving very different materials and techniques, such as iron, wood, lead or everyday objects. For his most recent work, on a series of books to be thrown out, he has only kept the covers. Painted in a way that only leaves visible the red cross showing that they were intended for the bin, they are carefully framed and covered with a protective layer of bees' wax.
In the era of the cloud, ebooks and other digital tablets, this pioneer in specialised teaching for the visually impaired replaces substance and imagination with virtual and thus calls on our common, universal memory.

His works can be found in numerous collections including those of the Museum of Modern Art and the Museum of Contemporary Art of Tokyo, the National Ceramic Museum in Sèvres, the Museum of Decorative Arts in Paris, the Ariana Museum in Geneva and the Victoria and Albert Museum in London. A pioneer in specialized teaching for the blind in Japan, he taught for 23 years at a school for the visually impaired in Chiba and directed the Nishimura Research Centerat Japan's Women's University in Tokyo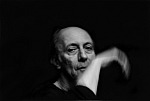 Pierre Skira was born in 1938m he lives and works in Paris

Gallery Pierre Skira