2019
February 01 to May 04
Michal Rovner
Dislocation
Opening Thursday 31rst of January 6:00 PM
Curated by Laurence Dreyfus
With the kind participation of Pace Geneva
Image: © Michal Rovner / Untitled 18 (Panorama)
https://www.pacegallery.com/artists/405/michal-rovner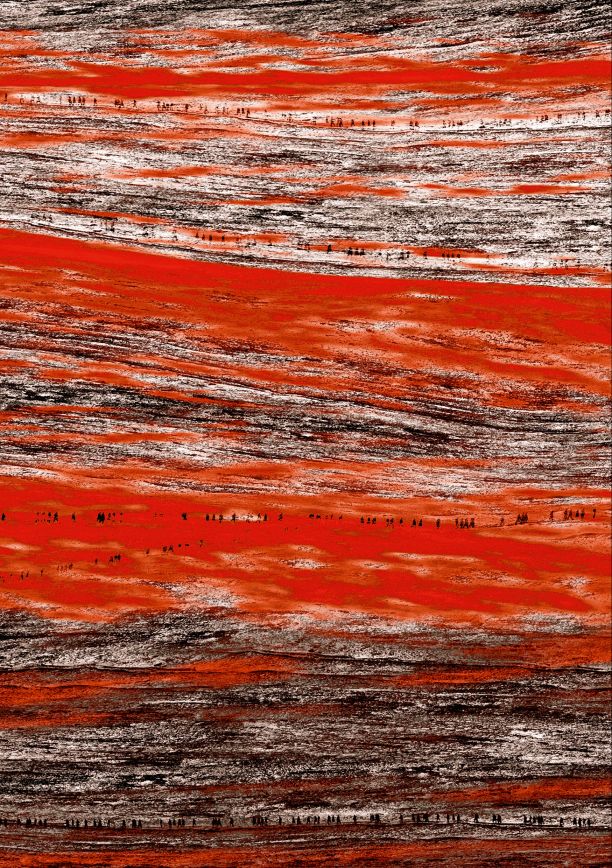 Since first showcasing her video work at her Whitney Museum of American Art retrospective in 2002, Michal Rovner has pioneered the use of the moving image as a non-narrative, non-cinematic medium for the creation of painterly images and installations which, like painting and sculpture, conjure the timeless realities in a way the narrative arts cannot.
"I'm not trying to ignore or get away from reality, but to detect something about reality, which is underneath the details, underneath the story." -Michal Rovner
Abandoning any sense of narrative, Rovner displaces her figures in fragmented sites. Time seems like an event without beginning or end. These abstract, painterly video works explore reflections of an unresolved reality that is troubling. The work of Michal Rovner is particularly relevant today, in a world immersed in crisis of displacement and dislocation.
"The faith of the uprooted, their ceaseless, epic wandering, is at the heart of the work of Michal Rovner" - Simon Schama (from BBC's Civilizations)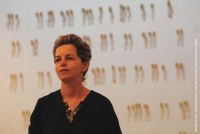 Michal Rovner (b. 1957, Israel) is known for her multimedia practice of drawing, printmaking, video, sculpture, and installation. Her work has and continues to define a new and evocative language of abstraction, broadly addressing themes of history, humanity and time. While generally avoiding specific issues or events, Rovner's work shifts between the poetic and the political, and between current time and historical memory, raising questions of identity, dislocation, and the fragility of human existence.
Rovner has been the subject of over seventy solo exhibitions held at venues including The Art Institute of Chicago (1993); Israel Museum, Jerusalem (1994); Tate Gallery, London (1997); Kemper Museum of Contemporary Art, Kansas City, Missouri (2001); Whitney Museum of American Art, New York (2002); and Museo d'arte contemporanea Roma (Al Mattatoio), Rome (2003). In 2003, Rovner was selected to represent Israel at the Venice Biennale where she presented the exhibition Against Order? Against Disorder?. In 2005, Fields was presented at Jeu de Paume in collaboration with Festival d'Automne à Paris, before traveling to the Tel Aviv Museum of Art in 2006. Other major monographic exhibitions have been held at L'Espace Culturel Louis Vuitton, Paris (2011); Musée du Louvre, Paris, (2011); Instituto Cultural Cabañas, Guadalajara, Mexico (2014); and the Multimedia Art Museum, Moscow (2015). Rovner was the recipient of the Tel Aviv Museum Award in 1997 and received an honorary doctorate from the Hebrew University of Jerusalem in 2008, Ben-Gurion University in 2015 and Tel-Aviv University in 2016. In 2010 she received the prestigious honour "Knight of the French Order of Arts and Letters". Rovner was recently awarded the 2018 EMET prize in the culture and art category.
Her work is held in numerous collections worldwide, including The Art Institute of Chicago; Auschwitz-Birkenau State Museum, Oświęcim, Poland; Bibliothèque Nationale de France, Paris; The British Museum, London; The Brooklyn Museum, New York; The Corcoran Gallery of Art, Washington, D.C.; Solomon R. Guggenheim Museum, New York; The Israel Museum, Jerusalem; The Jewish Museum, New York; Lambert Art Collection, Geneva; Los Angeles County Museum of Art; The Metropolitan Museum of Art, New York; Musée de l'Elysée, Lausanne, Switzerland; Museo d'arte contemporanea Roma (Al Mattatoio); The Museum of Fine Arts, Houston; The Museum of Modern Art, New York; San Francisco Museum of Modern Art; Tel Aviv Museum of Art; Whitney Museum of American Art, New York; and the Yad Vashem Holocaust Memorial Authority, Jerusalem, among others.
Michal Rovner has been represented by Pace since 2003.
Gallery Galerie