2023
January 26 to April 15
Andreas Eriksson
It takes two
Opening 25th of January 6 PM
Espace Muraille is dedicating a monographic exhibition to the Swedish artist Andreas Eriksson, curated by Laurence Dreyfus.
Andreas Eriksson's work is centered on a finely honed dialogue with nature, informed by his home and studio in the Swedish countryside and its surroundings. He creates images that are both formally refined and emotionally evocative, balancing figuration and abstraction in an attempt to introspectively, poetically capture the fleeting phenomena of his environments.
Andreas Eriksson has designed the exhibition "It takes two" especially for the Espace Muraille with a brand new series of works dedicated to the night: "Night Painting" which incorporates a museum-sized painting. Ranging from bronze sculptures to prints, textiles and paintings, his works take many forms: While those in small formats bring to light finer details of his practice, his largecompositions become landscapes in and of themselves.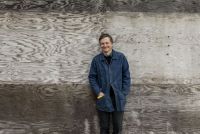 Andreas Eriksson was born in 1975 in Björsäter, Sweden
His work was exhibited at the 30th São Paulo Biennale in 2012 and at the Nordic Pavilion of the 54th Venice Biennale in 2011. A major solo exhibition of Eriksson's work opened at the Skissernas Museum in Lund in June 2021. The artist also exhibited a series of watercolors, drawings and tapestries at the Nordic Watercolour Museum, Tjörn, in September 2020.
Other notable solo exhibitions include Andreas Eriksson, Artspace by 11 Linjen Griet Dupont Foundation, Oudenburg, Belgium (2021); Cutouts, Mistakes and Threads, Braunsfelder Family Collection, Cologne, Germany (2019); Work in Progress, Skissernas Museum, Lund, Sweden (2017); Roundabouts, Bonniers Konsthall, Stockholm, Sweden, subsequently shown at the Trondheim Kunstmuseum, Trondheim, Norway, Centre PasquArt, Biel, Switzerland, and the Reykjavik Art Museum, Reykjavik, Iceland (2014-2015). Roundabout the hardship of believing and Walking the Dog, Lying on the Sofa at MUMOK, Vienna, Austria (2008).
Eriksson's work is included in important international collections, including Centre Pompidou, Paris and FRAC Auvergne, France; MUMOK, Vienna, Austria; Nasjonalmuseet, Oslo, Norway; Gothenburg Museum of Art, Gothenberg, Sweden; Moderna Museet, Stockholm, Sweden; Skövde Art Museum, Skövde, Sweden; National Public Art Council, Sweden; Sundsvall Museum, Sundsvall, Sweden; Uppsala Art Museum, Uppsala, Sweden and X Museum, Beijing, China.
Andreas Eriksson / Luca Fascini
Opening Andreas Eriksson / © Joachim Sommer