2023
May 05 to July 15
Philippe Gronon
Philippe Gronon
https://www.philippegronon.com/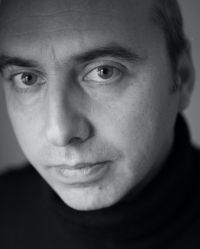 Since the end of the 1980s, Philippe Gronon has been developing a photographic body of work whose point of departure is the definition of photography at its most simple: that is to say, a technique for creating images that records reality as it is. This statement is translated into a production protocol. The quasi-totality of the objects that are photographed (amps, safes, listing tables, writing cases, lithographic stones, electrical dashboards, the back of paintings, etc.) and more recently digitalized and scanned (martyrs, photographic frames and trays, printing frames and the digitizing machine) are all taken head-on, on a 1:1 scale. They are cut out, isolated from any context or spatial-temporal situation, which gives them a great new formal intensity. Photographic subjects as much as objects, perfectly reproduced without being fetishes or artefacts, these motifs evade simple imagery. Their flatness and the manner in which they are framed reference the history of painting, which confers upon each photograph a pictorial quality. Moreover, their false frontal simplicity opens these images up to the discovery of a world: that of the objects that surround us, here acquiring an aura.
Philippe Gronon was born in 1964 in Rochefort. He lives and works in Malakoff.
Since 1991, he has taken part in numerous personal and collective exhibitions in France and abroad, such as: « Philippe Gronon », Frac des Pays de la Loire, Carquefou 2001; « Retournements », Musée d'Arts de Nantes, 2010; « Philippe Gronon - L'altro lato », Villa Medici, Rome, 2010; « Philippe Gronon. 'Révéler' », Musée Picasso-Paris, 2016; and a large-scale exhibition dedicated to his work at the Musée des beaux-arts in La Chaux-de-Fonds, Switzerland, in 2021.
His work is represented in several public collections, such as: the Musée national d'art moderne Georges Pompidou, Paris; the Louvre Museum, Paris; the Mamco, Musée d'art moderne et contemporain in Geneva, Switzerland; the Mamac, Musée d'art moderne et contemporain, Nice; the Musée de l'Elysée in Lausanne and the Musée des beaux-arts in La Chaux-de-Fonds, Switzerland.