2014
May 2 to July 12
Morellet / Kawamata
François Morellet and Tadashi Kawamata
Article published in the newspaper: Le Temps
Caroline and Eric Freymond gave the Paris gallery owner Kamel Mennour a free rein for organizing exhibitions in Espace Muraille, a new exhibition place dedicated to contemporary art located in the foundations of family building at the heart of Geneva's old town. From May to July 2014, you can discover works there by two artists with whom Kamel has worked for several years: François Morellet and Tadashi Kawamata, each occupying a floor in the exhibition space.
From Morellet, Mennour has mainly selected square canvases, some with neon lights. Whilst initially right angles appear to dominate, the squares are in fact broken within themselves by a both mathematical and voluble curves due to the effects of instability that the artist develops by moving, splitting and shifting his frames and supports. This facetious squaring of the circle is notably at work in the Cruibes series where a sort of tight chain lets you envisage the work like the fragment of a larger design. But the painting may become tondo and then we are faced with an inversion of values, the square sliding inside and exploding in sharp immaculate triangles which are like the facets of a diamond.
For Kawamata, the choice fell on a series of models and paintings on panels of plywood Some works directly evoke the huts designed for the 2013 FIAC (International Fair of Contemporary Art) in Paris for the Place Vendôme column and buildings. There we have grafts like swallows nests discreetly clinging under the structures as if nature were reclaiming its rights in the urban environment. Others recall an installation in Chaumont-sur-Loire, in the form of a bucolic walk by the river as if on the planks of Normandy and British coastal towns. Finally, a few Tree Huts are emblematic of the work of the Japanese artist who creates fragile ephemeral architectures in salvaged wood, a cross between make-shift homes and huts for children.
It is precisely this child-like dimension that brings these two artists together, each in his own way giving us his Far Eastern poetry of the transitory. It is, in fact, not the first time that their works have been exhibited together, since, as a trial, for the exhibition of François Morellet at the gallery Kamel Mennour in Paris, adashi Kawamata created in spring a wooden walkway, a sort of floating boom that allows you to float above an installation of neon lights created by the elder. Thus exhibition in Geneva thus marks a new stage in the pursuit of this fruitful dialogue.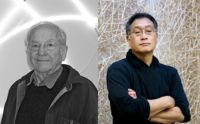 François Morellet
(30 April 1926 – 10 May 2016)[1] was a French contemporary painter, sculptor, and light artist. His early work prefigured minimal art and conceptual art, and he played a prominent role in the development of geometrical abstract art.
Tadashi Kawamata was born in 1953 in Hokkaido, Japan. he lives and works between Tokyo and Paris.

Gallery François Morellet
Gallery Tadashi Kawamata