2015
January 28 to May 02
Monique Frydman
U-TOPIA OF COLOUR
Curated by Laurence Dreyfus
With kind support of the Alice Pauli gallery
The question of the place, the Topos, and notably the place of colour, is raised in painting, philosophy and poetry. The place of colour is defined both in its presence, the painting, and in its absence, U-topia, which braids the no place, the in-itself (l'en-soi – the world of things, objectivity) of colour and its imagined place. Blue is the colour of utopia, a purely abstract colour. The blue of the sky is a dream; it passes, from dawn to dusk, from lightness to darkness. For Monique Frydman, quite apart from blue, painting in itself is a utopia. A space for dreams, freedom that defeats contingencies. But what utopia are you talking about? What type is it that motivates the painter?
Monique Frydman has thus thought out and specially designed the U-topia of colour exhibition for Espace Muraille. The series of paintings and installations that she presents there incites us to meditate on this.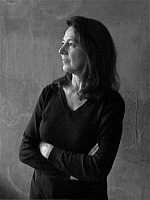 French artist and major abstract painter, Monique Frydman uses a language without any figurative reference and asserts herself thru the celebration of colour.
She had personally held exhibitions at the Musée du Louvre ('Polyptyque Sasseta' in the Salon Carré), at the Bonnard Museum, at the 21st  Century of Contemporary Art of Kanazawa (Japan), at the Verrière Fondation Hermès (Brussels), at the Matisse Museum of Cateau-Cambresis, at the Passage de Retz in Paris, and in major collective exhibitions like elles@centrepompidou. Her artworks are part of collections, amongst others: Centre Pompidou, CNAP, Mac /Val, the Manufacture des Gobelins, the Museum of Modern Art in Caen, the Manufacture de Sèvres, and several Regional Contemporary Art Funds as well as private and prestigious collections.
Gallery Monique Frydman