2019
February 10 to March 03
Pierre Lesieur
Le Ravissement des Couleurs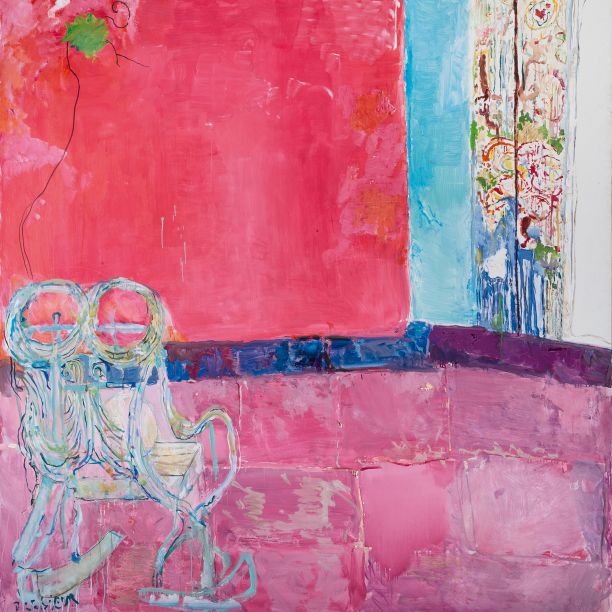 February 10th – March 3rd 2019
Chalet Farb, Farbstrasse 20, 3792 Saanen, Switzerland
Chalet Mittelgaessli, Dorfstrasse 79, 3792 Saanen / Switzerland
Eric and Caroline Freymond, together with Andreas Siegfried are pleased to present 'Le Ravissement des couleurs' a selection of late works by the late French artist Pierre Lesieur. Following up on the recent retrospective of Pierre Lesieur's work at the Musée Bonnard in Le Cannet in Provence we are delighted to present his works within the context of a private home in Gstaad. Lesieur's colourful and vibrant depictions of arabesque interiors, antiques, as well as extraordinary objects, will be given a unique display inside the most sought-after interiors of the Chalet Farb.
Born in 1922 this major painter was part of the movement of the second school of Paris. The artist took part in over thirty solo as well as group shows between Paris, London, New York, and Tokyo. Lesieur was a nomad at heart and a true explorer, having travelled all over Europe, the Orient, as well as Asia and India. He achieved to create a seamless dialogue bringing together all these different cultures in his paintings. In his houses in Paris as well as Saint Remy de Provence he created a unique atmosphere of interiors that would reflect his passion for adventure and travels.
The first impression one has looking at his paintings is that they have an immediate presence and imagination and therefore seem very contemporary in their composition as well as in the harmony of colours. Lesieur's aim throughout his work was to try to create the infinite variety of a tone, therefore enhancing different spatial configurations within a specific interior. In simplifying a figurative composition turning it in an almost abstract one, he achieves to keep the balance between figuration and abstraction and therefore never loses sight of his true calling.
Lesieur often gets compared with the French impressionist painter Pierre Bonnard, as his compositions sometimes resemble the latter. However, Bonnard's paintings often depict objects that contrasts in colours according to different times of the day and that are part of a narrative inside a daily intimate scene. Lesieur's aim, in contrast, is to put the object as its core subject, intensifying in this way its shape, colour and movement, making the object seem alive like in an imaginary dream.
The exhibition will assemble forty paintings, spanning over the period of 1998 to 2009. The exhibition is split between two locations, for the larger works at Chalet Farb, and for the smaller works at Chalet Mittelgaessli in Saanen.
For further information please contact Andreas Siegfried.
Pierre Lesieur, Intérieur Rouge, Height 180 cm, Width 170 cm, Framed: 182 X 172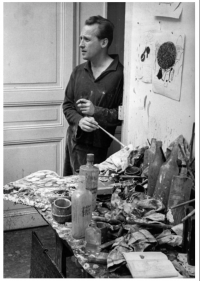 Pierre Lesieur (1922-2011)
Pierre Lesieur est né à Paris en 1922.
Très jeune il travaille le dessin et la peinture avec sa grand-mère maternelle.
Après le baccalauréat, il décide de se consacrer à la peinture et entre à l'Ecole des Beaux-Arts. Il y suit quelque temps les cours d'André Lhote, mais choisit finalement de se former seul dans divers ateliers libres –notamment l'Académie Montmartre.
Il obtient une première exposition à la Galerie Lefranc, rue de Seine, puis
en 1952 à la Galerie Bignou et participe à de nombreux salons : Salon de Mai, « Ecole de Paris » de la Galerie Charpentier (1953), « Grands et Jeunes d'Aujourd'hui » au Musée d'Art Moderne de la Ville de Paris (1962), F.I.A.C. Paris (1980). Il est également invité à de nombreuses manifestations internationales : au Japon, en URSS, en Pologne, en Italie, en Angleterre…
A partir de 1953, les expositions se succèdent, principalement à la Galerie Coard (Paris), à la Galerie Nichido (Tokyo), et à la Galerie Finlay (New York).
Il reçoit en 1958 le Prix de la Critique.
La même année, il entreprend avec sa femme, la comédienne Michelle Marquais, un long périple autour du monde qui influencera considérablement son œuvre.
Trois expositions rétrospectives lui ont été consacrées de son vivant et ses œuvres sont présentes dans de grandes collections publiques et privées.
Sa vie a été ponctuée par de nombreux voyages, restés une source intarissable d'inspiration. Il a réalisé son travail essentiellement dans ses ateliers de Paris et de Saint-Rémy-de Provence.
Infatigable créateur, Pierre Lesieur laisse une œuvre vaste et considérable.
Portrait: Pierre Lesieur in his Parisian studio, 1960. Photo Credit: Pierre Colendorf.