2024
January 23 to April 13
Tomás Saraceno
Tomás Saraceno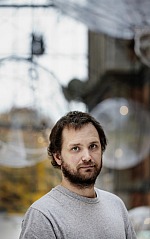 Tomás Saraceno (b.1973, Argentina)
After attaining his architecture degree at Universidad Nacional de Buenos Aires in Argentina, Tomás received postgraduate degrees in art and architecture from Escuela Superior de bellas Artes de la Nación Ernesto de la Carcova, Buenos Aires (2000) and Staatliche Hochschule für Bildende Künste - Städelschule-Frankfurt am Main (2003).

In 2009, he attended the International Space Studies Program at NASA Ames in Silicon Valley, CA. The same year Saraceno presented a major installation at the 53rd Biennale di Venezia, and was later on awarded the prestigious Calder Prize.
In the last years, Saraceno's work has been shown in international solo and group exhibitions such as Le Bord des Mondes, at Palais de Tokyo, Paris (2015), in orbit at Kunstsammlung Nordrhein-Westfalen K21 in Düsseldorf (2013-15) and On Space time foam at Hangar Bicocca in Milan (2012-13), amongst others. His work has also been exhibited in public museums like The Metropolitan Museum of Art in New York (2012), the Kemper Museum of Contemporary Art in St. Louis (2011-12), and Hamburger Bahnhof, Berlin (2011-12).

Saraceno's work could be seen as an ongoing research, informed by the worlds of art, architecture, natural sciences and engineering; his floating sculptures and interactive installations propose and explore new, sustainable ways of inhabiting and sensing the environment towards an aerosolar becoming.

Tomás Saraceno lives and works in and beyond the planet Earth.


Portrait: © Anders Sune Berg